Hi everyone!
My name is Mea Baráth and I am glad to be the part of this Documentary Family Photography Week.
I am a mother of four. We live in Hungary, in a small village. We have a big garden and a forest and a lake nearby. Life is slowly and lovely here, but our family life is always loud, chaotic, and very intensive. My children are 14, 11, 6, and 3 years old and something always happens to them…
But I am not only a mother, I'm also a storyteller. I take pictures of "nothing special" in families' everydays, because that's where the thing that we are calling Life is happening. Goose bumps and heartbeats. Photography without poses.
I became a photographer 11 years ago. I worked in my own photo studio for years. To find my own way within photography I thank my kids. We chose homeschooling which was a way of life together. Thank God we could do it in Hungary. We develop by kneading, shaping and enriching each other, we learn and we teach, we live the Big Life. Everyone has the opportunity to follow their own interests, deepen in what excites them. But that's not how I grew up. A clever little girl, who was adaptable, and who slowly lost her passion. Replaced the will to comply with the performance requirement. How can I teach my children not to lose sight of internal identity, the uniqueness of their identity before I know my own answer to who I am?
How can I live what I wish for my children?
My motto is: Life is too short for poses.
I will never forget the dinner with our friends where several people said they should change jobs, try something else, because they feel they are not in their place. But they were faced with not knowing what they really wanted to do and where to go next. Next to our table, my son began to scream with a red face and stomp, choking us with the thread of contemplation. Because he just wanted the ball that his brother kicked far. Yes, as a child we still know it. We know clearly what we want, and many times we know so strongly that it's already a will. Do you still remember what you wanted to be when you finally grew up?
For me, this is Családmesék www.csaladmesek.hu (it means Familystories, Familyfairies). Taking pictures, documenting life, meeting people. The tension of the studio places: "Stay still! Don't run around! Smile nice! Don't stretch your tongue!" Ohh, it's more exciting to run around the studio or hide in the toilet! It's true, isn't it? Let's have some fun, shall we? So I go to families' homes, to the place where they can be more themself. Where there's a place for laughter and also there's place for crying. We usually spend two or three hours together without any stress, just free, smile at the camera obligation. We talk, we connect with each other, a kind atmosphere is formed in which spontaneous, honest pictures are simply taken. I am documenting how they drink cocoa together in the morning, the jelly smile, the laughs at family jokes, the tears after the quarrel for the red mug, jumping on the bed and cuddling before bed, the healing kiss on the boo-boo. These are the little things we go through every day. That's the story of every day. We skip over them, but in fact these are the real memories of this early childhood period. And there is the real atmosphere of the family, the unique color of home, which is really they are.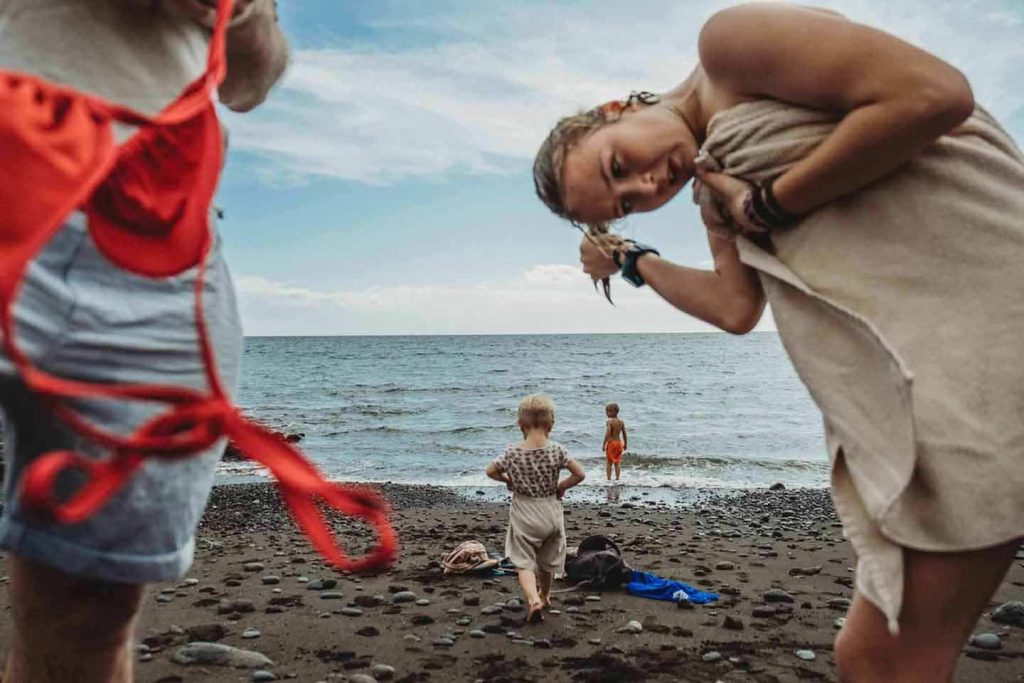 I wrap memories into pictures. No poses. Not force a smile. No sterile background, no set. More real emotions, honest moments. I want to preserve the miracles of everyday life. When you look at the picture and your heart moves, it means I did something right.
A studio job requires completely different competencies, knowledge and attitudes than documenting the viability. Lifestyle photography is just almost the same, it smells more like life, but you have to instruct the family. Documenting situations, you have to adapt to the current situation, the conditions of the light, the people – mostly younger ones – are constantly moving and changing. I really love and enjoy it! Capture the moment, the one where love is caught in the act! The true relationship between people.
I live with four kids in the same household, so I know what it's like to move the remains of dinner the next morning, when you stumble upon step-by-step toys in the apartment and handprints or specific works of art occur on the white-painted kitchen wall. It's more than ok. I love my family's life so much! And I often speak about it on my webpage, in my facebook group, on my insta. It's important for my clients to see I'm a mother, too. And yes, I know it.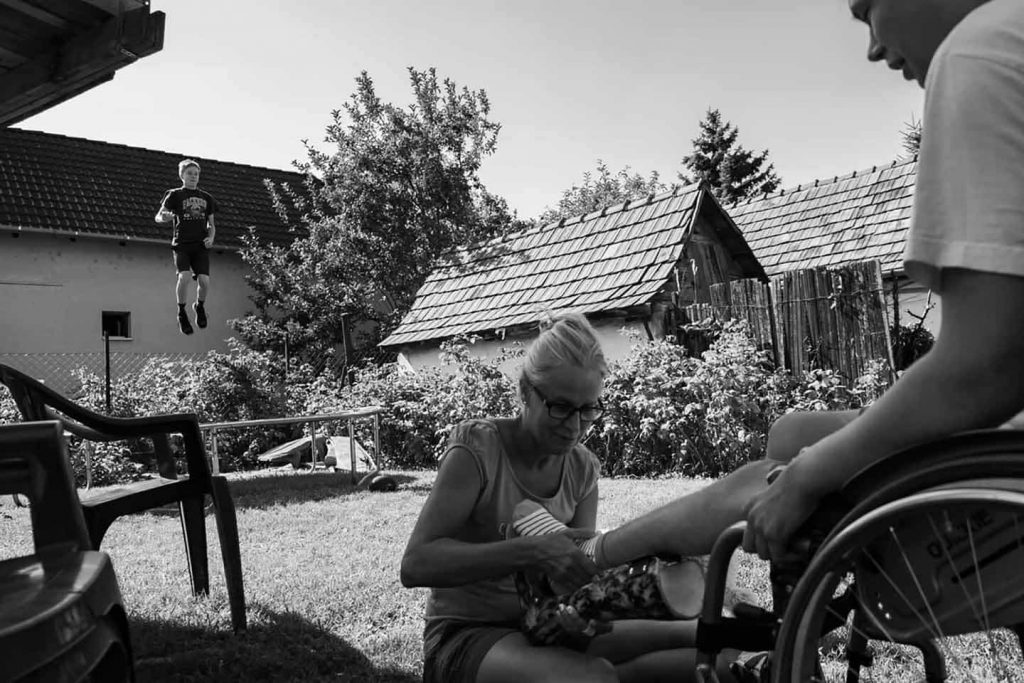 In Hungary, documentary family photography is not yet well known. I have to break the path. When a family wants photos from a photographer, they think about being in nice clothes, nice poses, some kind of harmony and perfection. I believe to live in a family is a gift. We don't need to be perfect – we can't. But life with kids is perfect in it's own way. My kids taught me there's no perfect family, no super mom. When we put on nice clothes, we dress up the kids and try to smile nice in the clean, sterile world of the studio, we actually want to see in the pictures that we are okay! Which is true! It just doesn't take the appearance of perfection. Because we're exactly enough good as we are. Without a nice dress. Jam-sleety, hugging little arms around our necks. With a circle around our eyes, but a grateful smile. Being a parent is a challenge but the most wonderful, richest thing in life. I think, family photojournalism speaks about that. And this is my mission.